Building a design system with Eleventy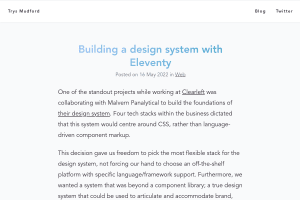 https://www.trysmudford.com/blog/eleventy-design-system/
Trys shows here some of the power of Eleventy, the best static site generator, to generate a Design System with components.
Eleventy was the obvious candidate. Generating "pages from data" was the most compelling feature, and add to that the flexibility in templating and the rapid build times, there really was no other stack that came close.
The result on the Malvern Panalytical design system is really great!
It also uses Zach's Seven Minutes Tabs web component and Trys' (and James') own Utopia for the fluid responsive typographic and spacing scales. 😍
I now have to try it for my own Eleventy powered sites!