Opquast
Web Quality Checklist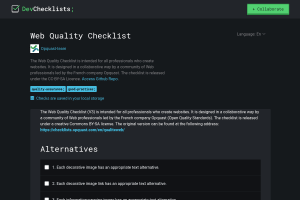 https://devchecklists.com/web-quality-checklist/en/
The Web Quality Checklist is intended for all professionals who create websites. It is designed in a collaborative way by a community of Web professionals, led by the French company Opquast (Open Quality Standards).
This checklist has been a must-have for any Web project for a while now, available originaly on https://checklists.opquast.com/en/qualiteweb/
Let's hope this additional presence on DevChecklists helps more people find and use it.