Taylor Hunt
Routing: I'm not smart enough for a SPA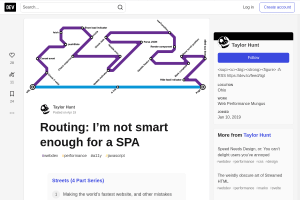 https://dev.to/tigt/routing-im-not-smart-enough-for-a-spa-5hki
Here comes Taylor's 4th article in his great "Streets" series about web performance and front end architectures.
Overall, SPAs' reliance on client JS makes them fail unpredictably at the seams: the places we don't control, the contexts we didn't plan for. Enough edge-cases added up are the sum total of humanity.
If you still want to build an SPA — a good one, of course — after reading this, you'd better be prepared to face many constraints and issues.