Maximiliano Firtman
Is the Phone Gap closed in 2020?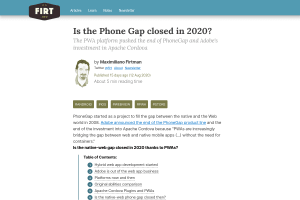 https://firt.dev/phonegap-end/
Following Adobe announcing the end of development for PhoneGap and PhoneGap Build, Maximiliano Firtman looks at what PhoneGap provided, and what it really means for current needs.
I think Adobe's statement is not entirely true; we are not 100% ready to remove app containers for all the web apps. We are closer today than 12 years ago, for sure. We are closer than 2 years ago. But Apache Cordova will still be there as well as Capacitor if your web app can't use just the PWA technologies.