Heydon Pickering
Is Progressive Enhancement Dead Yet?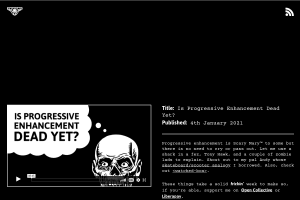 https://briefs.video/videos/is-progressive-enhancement-dead-yet/
Progressive enhancement is Scary Mary™ to some but there is no need to cry or pass out. Let me use a shark in a fez, Tony Hawk, and a couple of zombie lads to explain. Shout out to my pal Andy whose skateboard/scooter analogy I borrowed.
Looks like I forgot to share this episode of Heydon's Webbed Briefs. 🤦‍♂️
You should know by now that I love progressive enhancement a lot, it should be mandatory.