Trey Harris
The case of the 500-mile email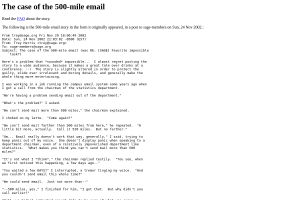 https://ibiblio.org/harris/500milemail
Let me quote just one phrase:
"We can't send mail more than 500 miles," the chairman explained.
Now I'll let you read, and laugh.
Looks like Trey wanted to make an animation from this amazing story:
If anyone with animation chops would like to collaborate on an animated short about the case of the 500-mile email, I'd love to talk.

www.ibiblio.org/harris/500milemail.html
If you're a geek and animator, it might be fun!