Timelines of the web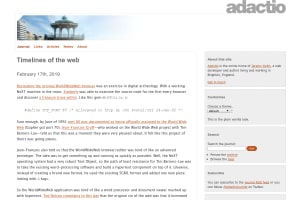 https://adactio.com/journal/14827
Jeremy Keith explains how he built the timeline of inspirations and achievements of the World Wide Web:
I thought it would be interesting not only to look at what's happened between 1989 and 2019, but also to look at what happened between 1959 and 1989.

So now I've got two time cones that converge in the middle: 1959 – 1989 and 1989 – 2019. For the first time period, I made categories of influences: formats, hypertext, networks, and computing. For the second time period, I catalogued notable results: browsers, servers, and the evolution of HTML.